Just before Jesus ascended into heaven for the last time, he left his disciples missional instructions. He said, "you will receive power when the Holy Spirit has come upon you, and you will be my witnesses in Jerusalem and in all Judea and Samaria, and to the end of the earth" (Acts 1:8). Many churches, since that time, have taken Jesus' words as a missional framework, seeking to work locally, nationally, and internationally. Grace Anglican Church has done the same, seeking to partner in mission to reach people with the Good News of Jesus Christ in Louisville, in the United States, and outside of our own country. See below to learn more about our missions partnerships and the current work going on with each one.
Note: As a newly planted church, these mission partnerships are still being developed. Please watch this space for updates.
Local: Refuge International Louisville
In Louisville, we have partnered with Refuge International, an organization that seeks to "glorify God by partnering with local churches to love refugees and immigrants." Refuge says of themselves (on their website): "We are intentionally focused on cultivating long-term relationships by making ourselves as accessible as possible to refugee and immigrant communities. We pursue our vision through three main initiatives: (1) operating a Welcome Center embedded in an ethnically diverse neighborhood, (2) coordinating Welcome Family Teams to introduce local churches into the lives of refugees and immigrants, and (3) hosting various medical/dental/sports clinics and events that serve as relational connection points for local churches and internationals."
Members of Grace Anglican Church can minister to refugees in many ways, including:
1. Language specific Bible studies
2. English mentoring
3. Co-journer teams
4. Employment connections
5. Social events/Kitchen trainings/other one-off opportunities
6. Prayer
Email the church at info@graceanglicanlou.com for more information and details about how to get involved.
To hear the Refuge International team talk about Refuge, their ministry, and ways to get involved, listen to a Volunteer Preview they put on at Grace Church by clicking HERE.
Current work:
1. Co-journer Team
We have recently wrapped up a co-journing relationship with an Afghan refugee family. We are taking a break for the summer, but will let Refuge know that we're ready for another co-journing relationship in the Fall.

If you would like to be involved in this important work, please contact the church via the email link above. You can always be in prayer this family and for our co-journer team as they minister to them.
2. English Mentoring
English Mentoring is a one-on-one English teaching opportunity that addresses refugees' greatest temporal need in their homes and according to their schedule while creating a close relational environment that is conducive to addressing spiritual and eternal needs through gospel conversations and one-on-one Bible study. Refuge International has developed a simple, user-friendly guide that aims to help a willing volunteer with no teaching experience effectively teach English to his or her refugee partner. If you are able to help with this ministry, please contact the church via the email link above.
National: Shady Anis Scholarship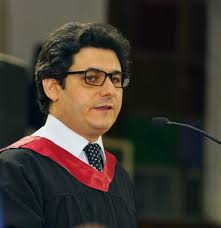 Please pray for Grace Anglican as we discern God's calling toward a national mission partnership. Since no national partnership has yet presented itself, Grace Church has undertaken a short-term (three year) partnership with Caritas Foundation International, Ashley Null, and Shady Anis to spread Reformation Anglicanism to, and cement it in, the Alexandria School of Theology (Egypt) and, from there, to the Arabic-speaking world as a whole.
Co-editor of Reformation Anglicanism: A Vision for Today's Global Communion (the book that serves as the outline for our Exploration Class), the Rev. Canon Dr. Ashley Null is an internationally respected scholar on the grace and gratitude theology of the English Reformation. Holding research degrees from Yale and the University of Cambridge, Ashley has received numerous awards for his work, including Fulbright, National Endowment for the Humanities and Guggenheim fellowships as well as being elected fellow of the Royal Historical Society and the Society of Antiquaries in London. He currently holds a research post funded by the German Research Council at Humboldt University of Berlin and is a visiting fellow at the Divinity Faculty of Cambridge University and St. John's College, Durham University.
It is in his role as Chairman of the Board of the Alexandria School of Theology that Dr. Null met Shady Anis. In Dr. Null's words:
"Shady Anis is a young, intellectually able, Global South scholar who is already an internationally respected leader for biblically faithful Anglicanism. Reared in the Diocese of Egypt, he is fluent in both Arabic and English, both as a speaker and as a writer, and he currently serves as the Academic Dean for the Alexandria School of Theology (AST), the Diocese of Egypt's theological education system which has four institutions in Egypt, one in Tunisia and one in Ethiopia. In that role, he has greatly shaped Arabic Anglican theological education in the Middle East and North Africa. As a result, AST is now an accredited extension site for joint programs with seminaries in the United States, a rare achievement which proves AST's high academic standard. However, since Shady is a gifted theologian as well as an experienced administrator, Shady represents just that kind of first-class mind from the majority world that we need to nurture so that the Global South can lead the way for top-flight Anglican scholarship in the future. Cambridge University in England has recognized Shady's academic promise and admitted him to their world-renowned PhD program in Theology. In addition, however, Cambridge has also given Shady the very rare honor of being permitted to go straight into his PhD program, thus skipping the usually mandatory one-year MPhil preparatory course and reducing the cost of his PhD by over $70,000! Shady is scheduled to begin his studies in the theology of the English Reformation under the Rev. Dr. Stephen Plant in September 2020. Although Cambridge is the best place for Shady to pursue his research topic, the costs involved are beyond the resources of Egypt. Therefore, we need to raise funds from abroad to make this possible."
Current work:
Grace Anglican Church has committed to financially assist Mr. Anis over the course of his three years of study in Cambridge (2020-2022). The church will receive regular updates from him, and hopes to welcome him to Louisville at some point in the near future. For more information about Shady and his work, please contact Pastor Nick.
International: Friends of Gahini
The Diocese of Christ our Hope (the Diocese in which Grace Church resides) has a long-standing relationship with the Anglican Church of Rwanda. Many of our churches received their first pastoral care and oversight from Rwandan bishops. Now, Grace Church is partnering with an organization called Friends of Gahini to strengthen the witness and outreach of the Rwandan church to its own people. Friends of Gahini is a 501(c)3 corporation in the United States which will be made up of six churches around the world, each partnered with an archdeaconry in the Diocese of Gahini. This partnership will be relationally-driven and Gospel-centered, and will work toward sustainability in that archdeaconry. Moucecore, an NGO (non-governmental organization) in Rwanda, provides logistical support for the relationships between member churches and the local archdeaconries.
Each year, a group from Grace Anglican will travel to Gahini to engage in cooperative mission with our partner archdeaconry. This trip will occur concurrently with trips by the other five churches involved in Friends of Gahini, so we will not only be serving Rwandan churches, but we will be building relationships with other Anglicans from around the world. This concurrence will also allow members of Grace Anglican to connect with mission teams from other churches whose missions more closely dovetail with their personal giftings. Some planned outcomes of this missional partnership are:
1. We help the Diocese of Gahini build systems towards long-term sustainability.
2. Each archdeaconry and their parishes will grow.
3. We will see more people come to Christ and grow in Christ.
4. We will see an exchange – some people from Gahini will come to our churches and stay and worship with us and fellowship with us.

Email the church at info@graceanglicanlou.com for more information and details about how to get involved.
Current work:
In May of 2020, Pastor Nick and Ralinda Gregor, a member of our vestry, were scheduled to travel to the Gahini Diocese in Rwanda. This trip was postponed due to COVID-19. When this trip is rescheduled, we will be able to have conversations with several potential partnerships that will allow us to discuss more specific ways our church might partner with Gahini. Currently, some churches have more specific area-focused partnerships (for example, one focuses on medical needs by serving with the hospital in Karangazi, bringing medical professionals in their congregation along on their trips to put on a medical clinic every year). This, our first trip to Rwanda, will be a "vision" trip; specific partnerships will be clarified after we have conversations and assess needs, etc. Please pray for this trip, and for our openness to God's leading as this partnership takes shape.