The Grace Church Fall Retreat is built around a series of talks, meals, and fellowship opportunities. It is a great time to get away (but not too far away!), relax, learn, and be rejuvenated. (Note: Scroll to the bottom of the page for an archive of past Fall Retreat recordings.) Nursery care and children's programming is available.

2022 Fall Retreat: Digging Up the Truth: Archaeology and the Reliability of the Old Testament
Recordings will be posted soon!
Can the Bible be trusted? Do we have evidence for the veracity of things that allegedly happened so long ago? Join us on the 2022 Fall Retreat, as the Rev. Jonathon Wylie, an experienced minister and archaeologist, discusses why we can trust the Old Testament and how archaeology can support that trust. Archaeology not only shows us that we can rely on the biblical witness, it also sheds light on the Bible's historical and cultural contexts. It helps us understand how the ancients lived—what they ate, how they built their houses and cities, how they constructed their societies, who they traded with, and more. This information gives us clues about how the ancients viewed the world and their place in it. In turn, that information is indispensable when it comes to discerning what the biblical writings meant in their original contexts. Join us for Good News: we have a reliable story of God at work, redeeming the world!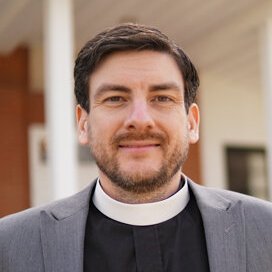 2022 Fall Retreat speaker: Jonathon Wylie
Jonathon is Associate Pastor/Rector at Hope Church (Anglican) in Charleston, West Virginia. He serves Hope in many ways pastorally, from preaching and teaching, to serving at the Lord's table. A native of Cincinnati, Jonathon moved to West Virginia in 2019 to teach high school humanities and theology at Covenant School in Huntington. From a very early age, he heard God's call to study and teach the Bible, and that is what he has aimed to do ever since. Jonathon is married to Meghan and they welcomed their first child, a little girl, in late summer 2021. He holds a Ph.D. in Hebrew Bible from the University of Wisconsin-Madison and a B.A. from Wheaton College. He enjoys reading and writing, running, good coffee, baking sourdough bread, and spending time with his beloved wife.
Location: Silver Heights Camp, 501 Camp Ave. New Albany IN, 47150
Retreat Schedule

Note: this is NOT an overnight retreat. We'll all sleep in our own beds on Friday night.

Friday
6:00pm - Potluck dinner with "main meat" provided. (Sign up to to bring something)
6:30pm - Childcare opens
7:00pm - Session #1
9:00pm - Optional fellowship trip to Sergio's World Beers
Saturday
8:15am - Childcare opens
8:30am - Gather and welcome
9:00am - Session #2
10:00am - Small group discussions/Break
11:00am - Session #3

Saturday afternoon: Optional fellowship trip to Huber's Farm
- meet-up #1: 1:00pm at the restaurant for lunch (click HERE to see the family-style menu; $21.99 per adult & $9.99 per child (ages 4-11)
- meet-up #2: 2:30pm at the playground (with the tube slide)
- meet-up #3: 3:30pm at the corn maze

6:00pm - Dinner (catered buffet dinner)
6:30pm - Childcare opens
7:00pm - Session #4
Cost: Adults: $50 for one person or $90 per couple. Children: $15 each.
For financial assistance, please contact Pastor Nick.
Past Fall Retreats:
2021: Failing Your Way to Glory: Good News for the Weary with Matt and Anne Kennedy
Session 1: Rich and Poor Together
Session 2: Well, That's Disappointing
Session 3: The Good News About Failing
Session 4: At the Very Least, Please Fail at Self-Care
2020: Walking Backward to Bethlehem: How Christ Permeates the Old Testament with Chad Bird
Session 1: The Layered Bible that Jesus Read
Session 2: Appearances of Christ in the Old Testament
Session 3: New Creation and New Exodus
Session 4: Christ as the New Tabernacle
2019: Becoming Human Again: Restoration in Christ with Adam Morton
Session 1: The Human Being, God, and the Ugly Ditch
Session 2: Created (to be) Human
Session 3: Conformed to the Image of the Son
Session 4: A Human is Justified by Faith