The Sunday morning formation time begins following the worship service (and coffee and fellowship time) at 11am, and lasts until 11:45 am. There are offerings for children (Sunday school is appropriate for children in Kindergarten through 6th grade) and for youth and adults (7th grade and older). Nursery care is available during this time; scroll down for information about our nursery.
Sunday Morning Formation for Youth and Adults
Spring and Fall 2022
The Wisdom Literature - led by Dr. Michael Nicholson
This Spring and then again in the Fall we will be studying and reflecting on the wisdom literature of the Old Testament. The books of wisdom—Proverbs, Job, Ecclesiastes, and Song of Songs—are among the more neglected books of the Bible, especially at the congregational level. Two of them—Job and Ecclesiastes—are the most perplexing and difficult books of the Bible. Proverbs is often taken as little more than holy self-help advice. And while Song of Songs is quite intriguing, most preachers and teachers don't quite know what to do with Spirit-inspired Scripture that celebrates romance, intimacy, and sex. But the Bible's wisdom books are important because they teach us how to live in the real world. Not the "world" of mass media, militant secularism, or pop culture, but the world as God created it. This world is a creation that God invested with his own beauty, harmony, and purity. Yet, it is also a world that is fallen, in which men and women and history and sometimes nature do not work in accord with the way things ought to be and were originally meant to be (and someday will be again). Wisdom takes all of this into account and shows us how we might put our feet on the path that leads us in the direction of that original beauty, harmony, and purity, even though, in this lifetime, we may only partially realize and embrace them. This class will meet in the Cooke Hall worship space (for the campus map, see the diagram on the "What to Expect" page).
The Exploration Class - led by Pastor Nick (Spring Only)
Each Spring, Pastor Nick leads The Exploration Class, which is a wonderful opportunity to get to know more about what makes Grace Anglican tick. The class runs for 12 weeks, and covers everything we care about, from "the basics" like "Who is Jesus?" and "What is the Gospel?" to things like how the Anglican church is structured and how it came to be. This class will meet in the Cooke Hall library (for the campus map, see the diagram on the "What to Expect" page).
Note: The Exploration Class is required for those seeking to become members of Grace Church and for confirmation (a ceremonial rite in which a mature believer "confirms" the faith that was celebrated at their baptism). Confirmation (or "reception," if you are confirmed in another Church) is required to become an official member of or to seek ordination in the ACNA (our denomination), or to serve on the vestry (the council of advice that supports and works with the pastor) of Grace Church. For completion, you must personally attend at least nine out of the twelve weeks of the class. If you aren't able to make this commitment, we hope you can attend the next Exploration Class.
Sunday Morning Formation for Children
Beginning at 11:00 am (and running until 11:45) our Sunday School meets in the Art & Music Building. For a campus map, see the What to Expect page).
Sunday School at Grace Anglican Church engages kids in a gospel-centered, structured, and active learning environment. Sunday School is fun! Bible lessons are taught using Lifeway's Gospel Project curriculum, where kids hear, week in and week out, the good news of Christ's finished work for this worn-out world. Every week teachers lead our kids through a catechetical "mini service" based on the Book of Common Prayer (2019). It's a fun, kid-friendly liturgy that assists families in training their children in the basics: the Lord's Prayer, the Creed, and the Ten Commandments. Martin Luther taught the importance of this in the introduction to his Shorter Catechism: "...with young persons...teach them first of all the Ten Commandments, the Creed, the Lord's Prayer, etc., according to the text, word for word, so that they can repeat it after you and commit it to memory."
At Grace Anglican's K-6 Sunday School, kids learn in a classically Protestant, content-rich environment. Every week, kids have fun learning the profound Biblical stories of the Good News of Jesus Christ along with the basics of our faith through singing, hand motions, older kids reading to younger kids, antiphonal recitation, and most importantly: through the caring, interested, and devoted attention of each Sunday School teacher and volunteer.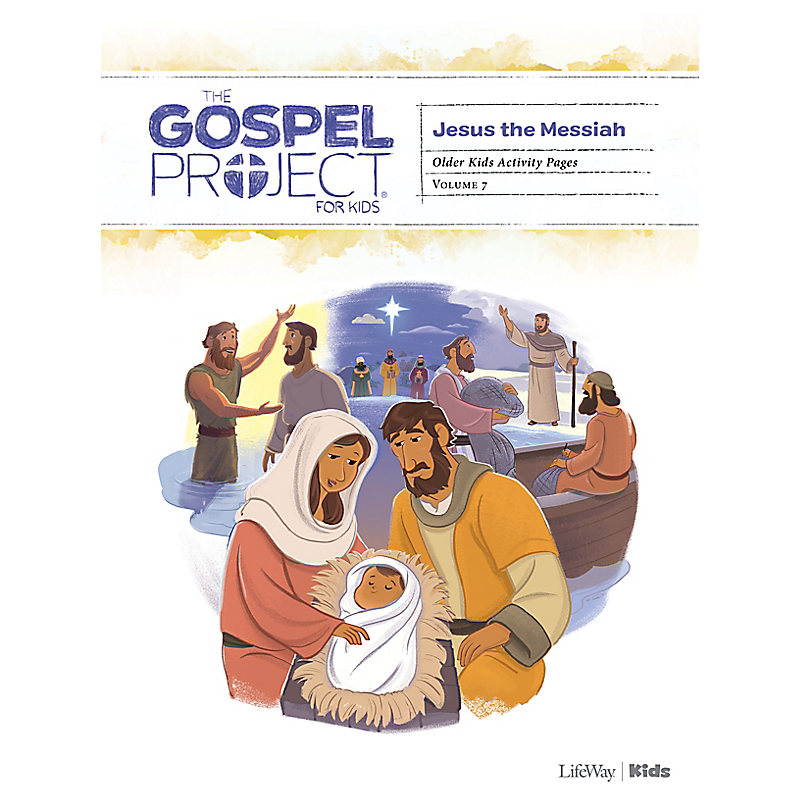 Spring 2022: Our Spring 2022 Sunday school will be using The Gospel Project's "Jesus the Messiah" curriculum. "Jesus the Messiah" helps kids discover how God's plan to save people from sin came into sharper focus as Jesus was born at last. From the beginning, Jesus proved that He is the Son of God and that all that was written about Him by the prophets was true. Jesus grew up and began to prepare for His ministry. When Jesus was baptized, God confirmed His sonship. Jesus was subsequently tempted by Satan, but He did not sin. As Jesus traveled throughout Judea, His personal encounters with ordinary people changed their lives in extraordinary ways. Jesus revealed that He was God the Son in human form, living among God's people and bringing salvation in Him alone.
Nursery
Children of all ages are always welcome in the service; coloring sheets and crayons are provided. For your convenience, our nursery (which opens at 9:15 am) is available for children who have not yet started kindergarten. Our nursery is split into two rooms, ages 0-3 in one room (immediately to the right of the entryway into Cooke Hall) and 3-5 in another (down a hallway to the right as you enter Cooke Hall). In order to keep the care-giver-to-child ratios even, sometimes 3-year-olds are split between the rooms. A nursery staff worker will be available at check-in to help you figure out where to go. For a campus map, see the What to Expect page. The nursery is open until 11:00am during the summer (when there are no Formation offerings) and until 12:00pm during the school year (when there are).
We have a computerized check-in system at the nursery; each child will receive a sticker with a unique alpha-numeric code that matches a sticker given to the parent. We have background-checked and trained nursery staff. The safety of your child is our first priority.
Meet Our Nursery Staff
Haylee Kantor
Haylee was born and raised here in Kentucky and has been living in Prospect since she was four years old. Haylee enjoys working with children and values her time with them. Having been a dancer for 15 years at Gillman's Dance Academy, she has taught dance classes for a wide age range of children. She also frequently cares for children in their homes.

Michelle Weber

Michelle was born in and has resided in Louisville her whole life. She's a big UK fan, and loves to travel. Some of her favorite in-town things to do are attending concerts and local live music. She has two Maltese which she adores.
Julie Ware

Julie grew up in Louisville and loves to travel to see new places. She fundraises for LMAS shelter pets and works full time for Humana. She received her MBA from Indiana Wesleyan University. When not working, Julie enjoys working out and hiking.
Laura Short
Laura is a lifelong Louisvillian. She retired from the financial services industry where she spent the majority of her career as a securities trader. She is a graduate of Assumption High School, Western Kentucky University, and Bellarmine University. She likes to play tennis, walk her dog, garden, and travel in her spare time.
Well Child Policy
We know kids get sick! While sharing is a good thing, sharing illness isn't so fun. If your child has any of the following symptoms, we ask that they rest at home or with parents during worship:
Temperature of 100 degrees or higher in the last 24 hours
Vomiting in the last 24 hours
Diarrhea in the last 24 hours
Severe Coughing in the last 24 hours
Colored nasal drainage
Pink eye
Head lice
Undiagnosed rash
Open skin lesions
Hand-Foot-Mouth Disease (last 14 days)
Any infectious disease